What do we need to know about Labour Market Information (LMI)?
Activity:
Think about your skills and confidence in:
Explaining the importance of LMI in your practice.
Outlining current changes in the labour market and future trends.
Explaining the theory underpinning information giving and the implications for practice.
Finding, assessing and using sources of LMI.
Undertaking employer visits and/or speaking with employers or education/training providers.
Delivering LMI learning (as part of group work and/or careers education).
Researching and creating bespoke, individualised LMI for clients, colleagues, parents and/or carers, etc.
Understanding issues of equality and diversity, as illustrated by LMI.
Keeping skills of information giving and knowledge about LMI up-to-date.
What is Labour Market Information?
Labour Market Information (LMI) takes several different forms:
'Hard LMI' typically refers to data gathered by labour market and employer surveys, which are conducted on a geographic and / or sector basis to provide a statistical picture of current and likely future employment and     skills trends.
'Soft LMI', in contrast, refers to information from a range of sources, like meetings with employers, feedback   from customers and media screening.
Both these types of information help career and employment professionals work effectively with their clients / customers. However, it has most impact when turned into labour market intelligence, through analysis and interpretation. This is what most career and employment professionals are using.
Video: What is LMI?  Watch this short video presentation (which explores different forms of labour market data) 
Why is Labour Market Information important?
LMI is pivotal to effective practice, since high quality, impartial, current, expert knowledge about the labour market distinguishes career and employment guidance and counselling from other types of helping.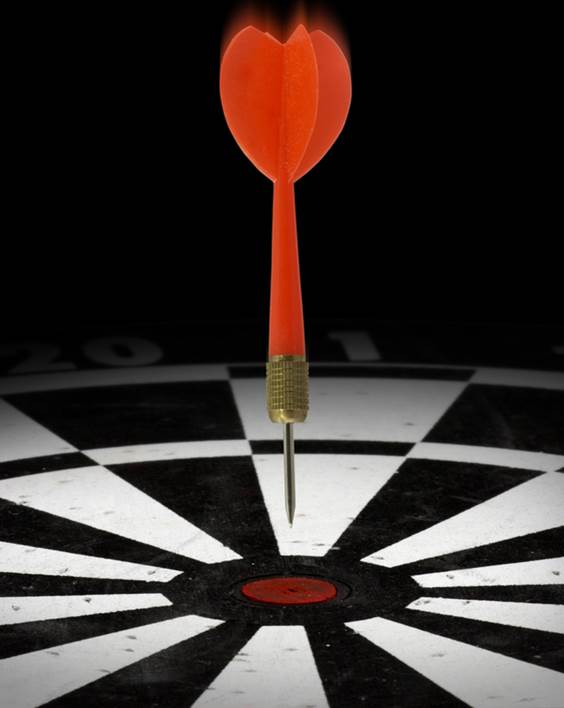 A career or employent practitioner relies on LMI every time they interact with someone seeking help. Clients / customers ask you, for example, about course choice, self employment, how much money they could they earn in a particular job, where the local job vacancies are located, what will the 'hot jobs' be when they leave education? None of these questions or issues could begin to be addressed without LMI. LMI demystifies the world of work and helps individuals realise their goals.
So, LMI provides the knowledge & understanding of how the labour market functions and is crucial for 'making sense' of changing economic circumstances, including reflecting upon what the future holds.
Who uses Labour Market information and what for?
LMI is used by a wide range of people. Most importantly, clients/ customers need access to high quality, robust, current LMI to help them navigate an increasingly complex labour market, making sense of the maze of opportunities available.
Clients / customers: LMI helps them to consider routes into and ways around and through the world of work, by raising aspirations, challenging stereotypes, increasing job knowledge and widening job knowledge. When applied to an individual's circumstances it is essential for making a good career decision.
Career and employment professionals: LMI is essential for an understanding of the dynamic interplay between 'supply' and 'demand' in fast-changing local, regional, national and international labour markets. It also supports them in their task of supporting their clients / customers to develop and enhance career decision-making skills so that they can use the available LMI themselves to weigh-up their potential options as their career progresses.
Policy makers and planners: need LMI to develop strategies for the labour markets of the future.
Course designers and curriculum developers: use LMI to identify what  knowledge, and which skills, will be needed in the future. This includes where there is growth or decline in the number of job opportunities, the demographic profile of different parts of the labour market, the demographic profile of regional labour markets, the availability of 'hard to fill' vacancies, and competition for jobs in different areas and sectors, as well as the impact this has on wage and skill levels.
Researchers: use LMI in research and understanding economic and social development at national, regional and local levels.
Activity: 
Think about how you have used LMI in the past, or might do in the future:
What  was your main purpose for using it?
What sort of  LMI did you look for?
Was it easy to find?
Different types LMI and their sources
The following diagram attempts to capture some of the complexity related to the ways that employment and career guidance counselling practitioners will require access to different types and sources of LMI, sometimes overlapping, depending on their immediate requirements.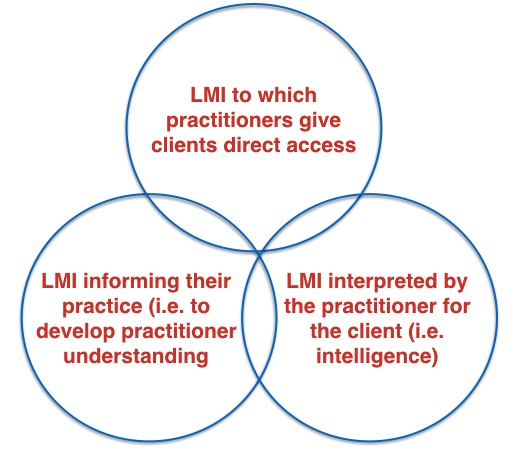 LMI to which practitioners give clients direct access (e.g. descriptions of jobs and training / education requirements)
LMI informing their practice (e.g. LMI relating to the equality of employment opportunities in different sectors / jobs)
LMI interpreted by the practitioner for the client (that is: What does this particular LMI mean for the particular circumstances of the client / customer? For example, if a client / customer wants to be a doctor, have they considered the length and / or cost of training required?)
Career and employment professionals typically feel extremely pressurised, with limited time to research information.  Consequently, LMI providers need to be aware that it must be easily accessible and available in a simple form and in accordance with the underpinning principles specified below:
Adherence to the core ethos of equality of opportunity for all and compliance with related legislation.
Commitment to impartiality, so that all LMI produced for the guidance/counselling process does not promote one sector, in a competitive manner, as superior to any other, or mask an economic decline.
Accessibility to potential users, addressing physical limitations as well as the ability to understand particular levels of complexity.
That the information will be robust, ensuring reliability, comprehensiveness and currency. 
That it should be relevant to the needs of practitioners in their guidance work with clients /customers.
Reflective Activity: 
Think about your use of LMI in practice:
Focusing on your most common source of LMI, how confident are you that it  complies to the underpinning principle above?
Further Resources: GMT interview with Jenny Bimrose: Labour market information: pivotal in careers advice and guidance
http://www.hecsu.ac.uk/assets/assets/documents/Jenny_Bimrose_Summer_2012.pdf
---