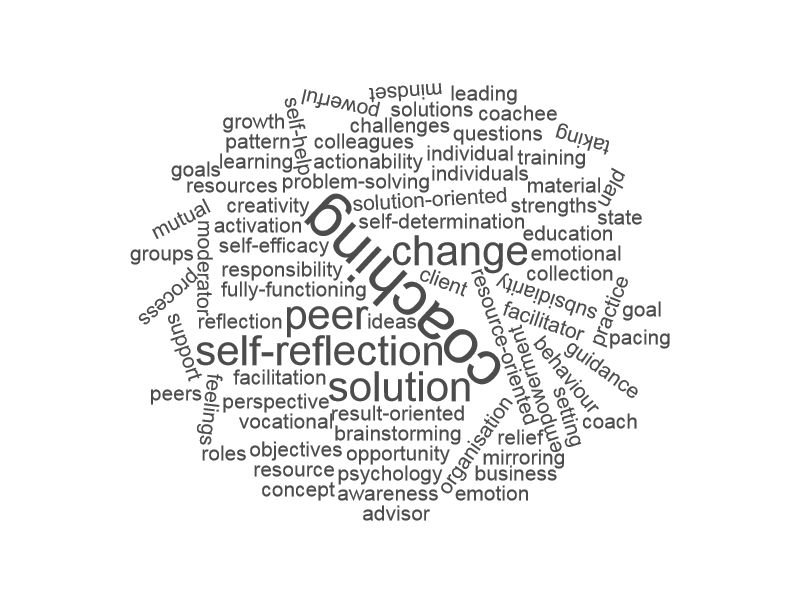 Fig. 1: "coaching and peer coaching" created with wortwolken.de
What is coaching and what are coaches doing?
Coaching is a form of pre-structured and process-oriented communication between a coach and a client to support the client in finding a solution for a work-related challenge. To separate it from other forms of coaching, e.g. sports coaching it is often also called business coaching. There is  "a whole lot of asking and not much telling" in coaching, meaning that the coach is NOT telling the client what to do, but supports the client by asking questions on what would be useful in the client's situation. The coach is the expert of the process (the coaching process) and the client is the expert of the challenging situation. Only the client knows all for him or her visible aspects of the situation.
The coaching understanding in this MOOC is based on the understanding of coaching associations e.g. the German Federal Association for Executive Coaching (DBVC) and the systemic-solution oriented coaching approach by Berninger-Schaefer (2011).

Fig. 2. Professional coaches based on SmithLeadershipLLC, 2012
Why do we use coaching?
It is important to recognise that coaching is different from advising, instructing or teaching.
Some characteristics of Coaching:
it avoids telling the person what to do,

it helps to build rapport which leads to more effective communication,

it encourages the person to identify for themselves what they need to do, rather than being told,

it draws out the person's potential; and

it enables the person to move forward.
Let's think about coaching in a sporting context.
If you think about a coach who works with an athlete, the coach's job is to transfer their knowledge and experience to develop the athlete's skills. The coach does not run the race for the athlete, nor do they run alongside the athlete during the race telling them what to do. But they do work with the athlete in advance of the race to improve their technique and performance so that they can perform well in the race even when the coach is no longer with them.
We have said that sports coach draws out the person's potential. They do this by:
encouraging the athlete through difficulties

challenging the athlete to raise their game and do everything they are capable of

being firm when the athlete needs it, but supportive when they need it too; and

drawing out the best performance by challenging/encouraging as needed.
The Benefits of Coaching
By coaching clients, you are involving them in decisions about their future and gaining their commitment. Involving people in the decisions that affect them increases their sense of ownership. This in turn increases their commitment and motivation. By coaching, you enable them to identify their goals and think for themselves.
If people are told what to do, they may go along with it to a degree, however they tend to be more committed to the ideas that they have come up with themselves. This means they are more likely to actively pursue these targets and undertake the steps to achieve them. By coaching, you enable them to plan how to meet their goals. Setting a goal is all very well but you need to put in the effort and have the willpower to actually achieve it.
People are far more likely to achieve their goals if they:
identify the goals themselves,

make a plan for what they will do, and how, when and where they will do it.
By coaching, you help individuals to find inner motivation for themselves. Having identified their own goals, people have a vested interest in achieving them – they want to achieve them. This gives them the motivation to take the action needed. Once they start they make progress which in itself is a great motivator.
By coaching, you help them to build confidence in themselves. Coaching is empowering as it enables people to take ownership and responsibility for their own future. It encourages them to consider their situation and discover for themselves the changes they can make and how to make them. By asking the clients to discover the answers for themselves you reinforce the message that their opinions, knowledge, experience etc. are worthwhile.
Code of Ethics
One of the most important points in coaching, before a coaching process can be started is to be clear and transparent about ethics. Since coaching is at the moment more and more professionalized there are a lot of associations and the members there who engage themselves to keep the ethical standards of their association.
One example there is the code of ethics by the International Coaching Federation (ICF) to give you an understanding on what is meant by ethics in coaching.
Maybe you know ethical guidelines from your country's coaching associations? Then share them with the whole group in the comment section below.
This is very crucial. In coaching and in peer coaching the whole coaching group needs to engage themselves to keep ethical standards and this has to be discussed in the very beginning.
In summary:
Coaching is a very specific technique which enables you to build the client's confidence and self sufficiency.
Resources:
Berninger-Schaefer, E. (2011). Orientierung im Coaching. Stuttgart: Boorberg Verlag.
DBVC (German Federal Association for Executive Coaching) URL: http://www.dbvc.de/ 
EmployID Academy (2016). Open Peer Coaching Online Course. URL: http://mooc.employid.eu/courses/
Institute for Employment Research, University of Warwick (2016). EmployID – Changing World of Work [closed MOOC on FutureLearn].
International Coaching Federation (ICF) (2015). Code of Ethics. URL: http://www.coachfederation.org/Ethics/
SmithLeadershipLLC (2012, July 17). What is Coaching? [Video file]. Retrieved from https://www.youtube.com/watch?v=nFx6yKZrzco (YouTube).
---
What is Coaching?