Using LMI in practice
High quality, reliable and up-to-date LMI is essential for effective career and employment practice. When giving LMI effectively, there are a number of processes that practitioners typically need to go through. For example, they need to:
Identify (what's required?)
Retrieve (which sources?)
Interpret (making sense?)
Disseminate (who is the target audience?)
Mediate (what does it mean?)
We also need to remember that there is such a thing as 'too much' information, if delivered all at once!
The following video summarises findings from research into the type of LMI both practitioners and their clients/customers, find most and least, useful. It then starts to identify how to use LMI effectively in your practice.
The video refers to how giving information as part of a career or employment intervention requires high level challenging skills, as you will often be challenging misconceptions and/or misunderstandings held by your client/customer. The difficulty of giving LMI skilfully to clients/customers is often underestimated. Below are some tips for the effective delivery of LMI, some traps to avoid falling into, together with a reminder of the principles underlying the effective use of LMI in practice.
Ten top tips for LMI delivery
When you give LMI to your clients/customers research tells us ways of using information to achieve the greatest impact.
Resist the temptation to 'jump in and tell', because you know the answer; it can result in a monologue.
Clarity – use short words and sentences, avoid jargon.
Check understanding, repeat information and give illustrative examples.
Be specific and detailed where appropriate.
Establish connections between situations and the information, using imagery and analogies.
Be positive, suggest what to do rather than what not to do.
Summarise and pause.
Vary your presentation and tone of voice
Provide written back up to emphasise key points.
You don't know? It's best to be honest!  If complex, find out for them; if not, support them to find out for themselves.
What to avoid
A list of web addresses is not a good way to deliver information – focus on one or two, and be clear about what they can provide.
Never recommend sites that you are not familiar with, or if you do, offer a health warning.
Never assume IT skills or knowledge of using the internet, always check.
If you can, guide them through any recommended website, pointing out relevant sections, since not all resources are user friendly.
If you are with a client/ customer, let them take the mobile phone (if you are using an app) or mouse and let them do the clicking where possible.
Provide, if appropriate, reminder notes they can refer to later.
Summary of principles underlying the effective use of LMI in practice:
Ensure the client/ customer wants and is ready to receive it!
Help individuals relate their information to their own situation (that is, make meaning of the LMI).
Check they have understood, accurately.
Make sure it is appropriate for the ability level and age.
Ensure the LMI is reliable, up-to-date and impartial.
Demonstrate respect and a genuine desire to help.
LMI: matching people to jobs?
The way that you give LMI as part of an employment or career intervention (interview or group work) will indicate how you, as practitioner, believe human behaviour is influenced and/or changed. Traditionally, career or employment decision-making has been regarded as a rational, linear process, involving a three stage process:
Information gathering;
Analysis;
Making a choice.
That is, the 'matching approach'  to career guidance and employment practice.
How does it work?
The matching approach to career and employment practice comes from differential psychology. It assumes that the provision of information (including LMI) changes people's behaviour in a rationale way. So LMI will be given directly to clients/customers by practitioners during a career or employment interview, or group work (for example, information about deadlines for a course or a job), together with the meaning interpreted by the practitioner (that is, if you don't meet this deadline, you will not be considered for the job or the course), with the intention  of changing behaviour (that is, to motivate clients  to adhere to this deadline).
Does this always happen in your practice?
Do clients/customers always do what the LMI suggests they should do?  
Most practitioners recognise that their clients/customers do not always behave 'rationally' in the way they might expect when given LMI, for a whole range of reasons – some of which may be out of their control.
If we accept that not everyone always behaves rationally, then we need to start questioning how sensible it is to give LMI in the way that this 'matching' model of human behaviour suggests.
Despite shortcomings, this approach to matching people with jobs has dominated the policy and practice landscape for over a hundred year (for example, think about the policy rhetoric in many countries around the urgent need to close the 'skills gap' by 'matching' employment opportunties to individual skill profiles/assessments). However, with the rapidly changing labour market with which we are currently dealing, criticisms are growing regarding to the usefulness of such a model for practice, that was developed in a very different labour market, over 100 years ago.  Matching, for example assumes stability in the labour market, where there is now none! It has been argued that 'Trying to place an evolving person into the changing work environment … is like trying to hit a butterfly with a boomerang' (Mitchell & Krumboltz, 1996, p.263).

So what are the alternatives? A number of approaches to career and employment practice provide an alternative way to thinking about how to use LMI in your practice. The powerpoint that follows takes you through six different approaches to using LMI in your practice.

(adapted from: Walsh, B. W., 1990). A summary and integration of career counseling approaches. In B.W. Walsh & H. Osipow (eds.) Career counseling: Contemporary topics in vocational psychology. Hove & London: Lawrence Erlbaum Associates.
Applying theory to practice
Case study: Jo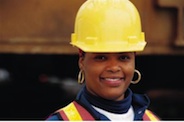 Jo is an electronic engineering technician who is unemployed and having difficulty finding a job in her local area. She has already checked out the local job websites and newspapers for any current job vacancies posted for electronic engineering technicians. Although Jo would like to stay in her local area, she is willing to travel to find work.
What LMI might help Jo?
What sources might be relevant?
Jo might want LMI to help her:
Find out which employers have hired electronic engineering technicians in the past in her local community. This way Jo can make sure she has exhausted the opportunities in the local area. If she decides that it is time to expand the area for her job search, she might want to put together a list of potential employers in the area that she is willing to re-locate to.
Find out where electronic engineering technicians are in demand, and what the current wage rate for electronic engineering technicians is in the area she is considering relocating to. Think about whether her skills are really up to date – or does she need some top up training? Anything else?
What does all this LMI mean for her?
Of course, armed with all of this, arises the 'so-what' factor! Jo will probably want to talk to someone. She may still have questions, and may end up coming to you for help. What topics and issues will you be prepared to discuss, and the other resources you might you use will largely depend on the theoretical framework informing your practice. What will this be? Will the focus be on LMI, or will it be about job search techniques, marketing herself, transferable skills, identifying the hidden jobmarket, decision making?
Reflective Activity:
Have you advanced your understanding of LMI.
Do you feel more confident in dealing with data and / or using data in your daily practice?
---