In this last unit, we talk about how to aid your reflection sessions and how to moderate a group reflection session. While reflection is something that naturally happens, sustaining reflection and leading it to successful outcomes cannot be taken for granted. Instead, there is a need to facilitate individual and group reflection.
To Reflect or Not to Reflect
As we learned in the first unit, reflection is based on personal experiences and is used to learn from it to shape future behaviour. This is very important in order to properly structure your personal reflection and also to help others in their reflection
When talking to others about an issue you have to differentiate between knowledge exchange and experience exchange. Knowledge exchange may create phrases like "having meeting agendas helps to make meetings faster", from which we cannot understand or make sure whether this knowledge comes personal experiences or whether the person has read or heard this somewhere. It is important to base your reflections on your experiences, as otherwise it would be just thinking about "facts" stated somewhere and by someone. Thus, when you reflect or help others to reflect, keep in mind to focus on personal experiences.
Similarly, if you reflect together with your colleagues and others are trying to help you with an issue, you can differentiate between solutions derived from reflection, meaning from personal experience of that person, or whether the solution is founded or suggested from other sources such as prior knowledge of a person. Focusing on experience in reflection and relating experiences to other experiences can help to uncover new aspects in your personal or professional life.
Which Questions to Ask
When reflecting together with others, you can use question prompts to facilitate the reflection in the group. Questions have been proven to be a mechanism to stimulate reflection (Wood Daudelin 1996), and questions provide the added benefit that you can steer the attention of the recipient to certain aspects.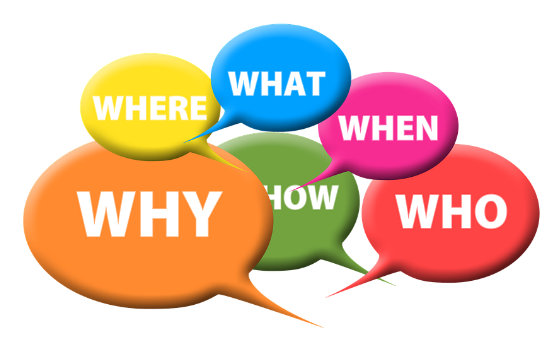 Questions by geralt (cc0)
In a reflection session, there are multiple stages linked to the elements of reflection, and we can emphasize on each element with specific questions (Wood Daudelin 1996, pp. 41-42):
Analysing the issue:

What has happened and what did you expect to happen?
Why was that important?
Why do you think it happened?
Why were you feeling that way?
What was the most important aspect?

Hypothesis generation:

How is this situation similar and different from other problems?
How might you do things differently?
Who might help you with this?

Action stage: Planning outcomes

What are the implications of all this for future action?
What should you do now?
As you can see, those stages are related to our basic model of reflection from the first unit. This list is by no means complete but rather provides a starting point and you are encouraged to create your own questions during your reflection sessions. Overall, reflection is a process you can use to aid your personal learning, but you are flexible in how you want to approach each reflection session. This list of questions can be also used as a writing stimulus for writing your personal journal entries.
How to Create Learning Outcomes?
Reflection is a great opportunity to learn from experiences, but the questions are often how to create outcomes of the learning or how to sustain the learning?
We learned that reflection is based on experiences, re-evaluating them, and trying to create plans on how to behave differently in future. We suggest some seemingly simple steps that lead to learning outcomes from reflection. As you have learned that in practice reflection, it not as easy as it seems, you can use your choice of tools and techniques to support these steps:
First, we advise you to note down what your plans are and how you want to achieve them. This way, you force yourself to spell out your plan rather than just forming a vague plan in your mind.
In a second step, often one reflection session is not enough. You might want to reflect a second, third, fourth time about the issue as you might have learned new aspect about the issue in the meantime. For this, you can make use of your reflection journal, in which you can reserve a section in each issue precisely to form a plan on future actions.
Then you can follow up on the issue in later journal entries, and continue to learn from your experiences.  This way you can visibly see how you continued to learn about various topics.
Reflective Exercise:
Did something unexpected happen in the last two weeks?
Further readings:
Wood Daudelin, Marilyn. "Learning from Experience through Reflection." Organizational Dynamics 24, no. 3 (1996): 36–48. doi:10.1016/S0090-2616(96)90004-2.
---
Facilitation and Moderation of Reflection