After talking about the basic components in the last unit, we will  now have a closer look at writing as a tool to support reflection. Naturally, this method is more suited to reflect after something has happened (reflection-on-action), as one normally does not have enough time (e.g. during a presentation) to sit down for reflective writing. This is also a method which is often used in teacher or nursing education, where learners are explicitly trained in writing a reflective journal. In this section, we show two approaches to reflective writing.
Benefits
There are several benefits associated with reflective writing (Hiemstra 2001, Moon 2006). Overall, reflective writing helps slowing down the pace, as you need to sit down, collect your thoughts, focus your attention and think about how to write something down. Without the aim to write something down, it is often difficult to find time dedicated to personal reflection about private and professional matters.
It allows personal growth and development through freely writing about e.g. integrating learning content in personal and professional life, re-evaluating situations with clients or friends, etc. While writing about learning content you enhance your sense of ownership of learning, as you work to make the learning content working for you. Writing about those personal matters also enhances your awareness about your thoughts and feelings. It can help with self-discovery as it helps interpreting thoughts and dreams. It aids problem solving as you can image your way through a problem while writing it down. Studies in psychotherapy have shown that writing is beneficial for one's personal health, which also helps to reduce stress. Reflective writing then also helps to strengthen your ability to reflect as you get better at it by practicing. Writing can be also used to keep track of a project and plan it further.
This does not mean that you are required to write an entire book now, but instead it helps to start with one entry a week (Hartley 1998). After seeing that reflective writing can have multiple benefits, we now have a closer look at the different types of writing.
Reflective Writing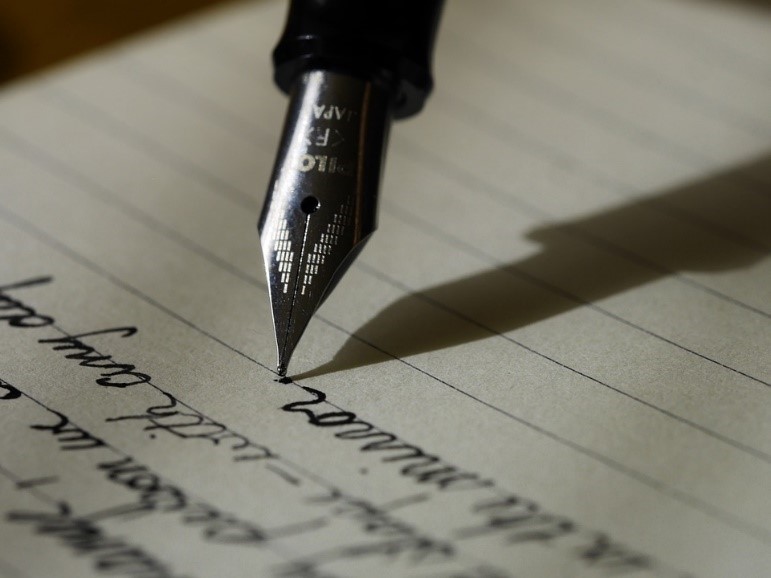 Writing by Unsplash, cc0
The next question is often, how to write reflectively. Just writing about a certain topic is not already reflective writing. At first, when you are just reporting about an experience you are performing descriptive writing, which is not yet reflective writing. As we learned in the last unit, reflection consists of the three elements of returning to experiences, analysing them to come up with plans for the future. Therefore, a descriptive part in your writing is necessary to write about experiences.
Only when you also analyse your experience and try to come up with plans for future behaviour you enter reflective writing itself.
You can use the three elements of reflection as a guiding structure to write a single journal entry. You can also use the following writing prompts to structure your journal entry:
What do you want to reflect about (e.g. what has happened? What idea do you have?)
What do you think about this experience now? What would you like to handle differently?
How do you plan to react in future?
More ideas for reflective writing are shown below in the section about how to start writing.
Journals and Diaries
Now, that we know how to write reflectively, we look at two different types of writing down your experiences and reflections: Journals and Diaries.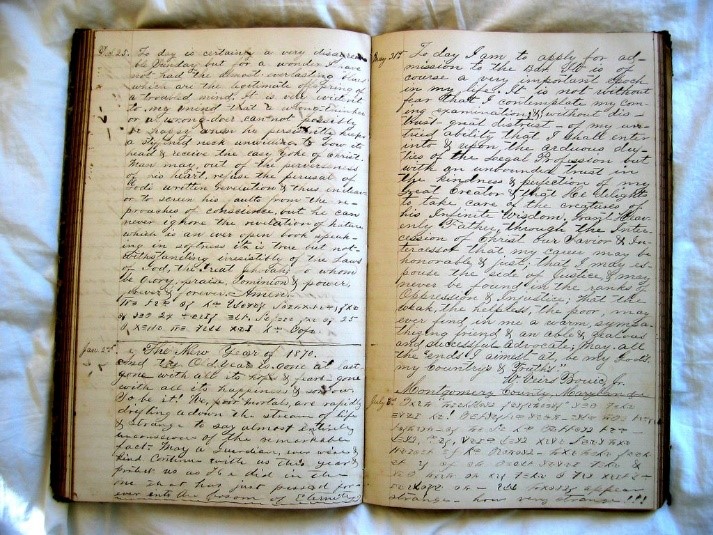 Diary by Barnaby Dorfman (CC BY 2.0, https://www.flickr.com/photos/bdorfman/15846725)
There are different kinds of journals: e.g., learning journals, professional journals, etc. (Hiemstra 2001). Learning Journals are often being used during an education experience, and professional journals can contain personal growth or personal development when starting out in jobs. Both can be used to put learning content into practice, or to also compare experience from practice into context with the learning context. Some of the tasks in this course have been created correspondingly. This is also very helpful for new employees who recently finished vocational training or studies.
Entries in learning journals contain reflections, feelings, or personal opinions from that learning experience. Those entries are often written in a specific structure, which aids the writing and imposes some restrictions on the writing as well. This structure can be given e.g. in learning tasks, or by specific questions, or the journal itself has a template. You do not need to start out with a learning journal focused on a single aspect, but rather a general reflective journal. Journals are often hand written.
On the other side, diaries are not related to specific learning experiences, but rather a format of chronological ordered, but unstructured events, which happened in your life. For this, you can use a blank notebook, but also electronic or audio diaries. If you want to write an electronic diary and share it with others, you can use blogs (web logs) or apps on your smartphone.
In all this, it is important to note that reflective writing is an important step in reflection, but writing alone does not cause changes in your life. You still need to act based on the results of your writing. Coming back to the reflection models in the last unit, we can state that reflective writing is one tool do perform personal reflection, and which can be used to write down personal experiences. The outcome part of putting plans into action is still required.
Using Writing in Group Support
Reflective writing can be used either alone or in a group. The forms of writing described above are at foremost an instrument of personal reflection, but can be also used as a medium in collaborative reflection.
In groups, a journal entry can be exchanged with others. For example, one writer starts writing her thoughts about a topic and then passes her journal entry on to the next person in the group. For this, it is necessary that there is a certain level of trust amongst group members so that people are willing to share their journal entries with each other. This is also used in education settings, where a student shares her reflections with her teacher, so that the teacher can also guide the student's reflections.
Depending of the willingness of a group at work you can also form a reflection group and exchange reflective journals. One form to do this is called "jotter wallet" (by Longenecker 2002), in which there is a case of index cards and one person starts with noting down ideas and experiences from interesting cases. The wallet holder shares the content in the wallet with the others each week. She then presents a case and poses some questions to guide the discussion about the case. Then the wallet passes to the next person in the group.
Another technique is called "Community reflection" which takes roughly 90 minutes. At first participants are introduced to the process and agree on a set of rules (e.g. not sharing sensitive content with outsiders; not judging each other, etc.). Everybody spends 20 minutes reflecting by themselves using a learning journal or similar. Then there is a session of 50 minutes led by a facilitator and a set of question in which everybody can participate with their personal reflections. At the end, everybody can also make comments on how they perceived the entire session in a brief summary.
Another form of reflective writing can be found in (virtual) communities of practice in which you can pose questions and help others. Communities of practice are groups of people who share the same practice in the same domain (e.g. working as a nurse, or working as a counsellor for unemployed job seekers, etc.). Those groups are often connected to each other at the workplace, or through portals on the internet. The latter is often described as a virtual community, as members often do not know each other and member's locations can span multiple countries and time zones. Communities of practice can be used to reflectively analyse a problem and obtain help from others. In case one does not fully trust everybody else in the community, some community platforms allow also for anonymous contributions, which sometimes make it easier to share personal thoughts about a topic.
How to start reflective writing
Starting a journal or a journal entry is often difficult when you are sitting in front of a blank page of your notebook or have a blank screen on your computer and need to type in the first words. In this section, we present some guiding principles and aspects, which you can use to start writing.
When setting up a journal, take some time to define what you intend to reflect about, e.g. whether the journal aims at your private or your personal life. Then it might be easier to start, if you already know a few topics you want to write about. If you define for yourself with whom you might want to share the journal, it might be easier to start. If you do not want to share it, that´s fine too. In addition, you do not need to think about a proper length of journal entries. Some topics are naturally easier to write up and other more complex topics might need more time and space of writing to develop a clear idea of what the issue might be and how to proceed in future. In education settings, it is recommended to write approximately once a week to get a habit of writing.
Literature (Moon 2006, pp. 102-103) also shows some brief guidelines on how to start a journal (from Walker 1985, Gibbs 1988):
Make it your own: Your journal is primarily for you and not for someone else. Thus, create it towards your specific needs and not some needs someone else might have. Do not overthink the first entry; your journal can evolve over time as your personal style of reflection develops and changes.
Be honest: Be honest with yourself in your entries. The purpose of reflection is to critically rethink experiences, so there is no need to lie to yourself.
Let words flow: Just start with writing, and start with what comes to mind regarding the topic at first. Over time, you might approach some topics more structured, but your journal entries do not need to be perfect from the start and you can flexibly adapt them in future.
Use your own words: Use the language you understand best, as the journal is for you specifically. This way the entries might be also easier to write, and easier to think through.
Dig deeper: Do not stop at simply writing down experiences, which is more descriptive than reflective writing, but create also a habit of thinking about what to do differently in future in order to learn from it. Challenge your own previous assumptions about the topics you write.
Seek help if necessary: You can ask others who are also using journals for reflection about some tips. In addition, if you are part of a learning experience you might ask your teacher about some tips for reflective journals (and check out the reading materials below).
Be selective: Studies have shown that some people write a lot more that they would´ve really needed. Therefore, you might need not to note down everything, but can rather think about what belongs to the topic and what does not.
Although there are many smartphone apps out there allowing you to write diaries and journals, we encourage you to keep a hand-written journal instead. In comparison to an app, you are freer to do what you want in a journal (drawing, changing your personal layout of individual entries, having longer and shorter entries etc.).
Reflective Exercise:
What are topics, you think most about and which you would like to start a reflective journal or diary about?
How could you use the techniques discussed in this unit in your everyday practice? Do you think it would be a useful technique for customers, clients and colleagues?
Further Readings:
Moon, Jennifer A. Learning Journals: A Handbook for Reflective Practice and Professional Development. Routledge, 2006.
Hiemstra, Roger. "Uses and Benefits of Journal Writing." New Directions for Adult and Continuing Education 2001, no. 90 (June 1, 2001): 19–26. doi:10.1002/ace.17.
Wenger, Etienne. Communities of Practice: Learning, Meaning, and Identity. Cambridge University Press, 1998.
Wood Daudelin, Marilyn. "Learning from Experience through Reflection." Organizational Dynamics 24, no. 3 (1996): 36–48. doi:10.1016/S0090-2616(96)90004-2.
---
Reflective Writing; Journals, Diaries and Group Support