To survive and thrive in the current volatile labour markets across the world, individuals need to develop career adapt-ability competencies. Here, we examine what is meant by career adapt-ability and competencies and the individual characteristics that play a key role in their development. There's also an online tool for you to use.
These individual characteristics include aspects of personality that influence how well individuals:
adjust to working in different work contexts
how flexible individuals are when faced with change
how proactive they are in looking for new challenges, and
how willing they are to make plans with implications for their future career.
Individuals also differ in their willingness and ability to:
explore possible future career roles, identities and work environments;
be resilient in the face of change; and how
be decisive around making career decisions in the light of changed circumstances.
Finally, we explore career adapt-ability competencies (control, curiosity,commitment, confidence and concern).
If you want to delve deeper, chapter 2 of the reference below expands the relevant theory. The whole of this report is worth reading because it includes engaging stories and powerful quotes about career adapt-ability from ordinary people in England and Norway.
Bimrose, J., Brown, A., Barnes, S-A. and Hughes, D. (2011) 'The role of career adaptability in skills supply', Wath-upon-Dearne, London: UK Commission for Employment and Skills, Evidence report 35. Main report.
1. What is career adapt-ability?
Career adapt-ability is 'the capability of an individual to make a series of successful transitions where the labour market, organisation of work and underlying occupational and organisational knowledge bases may all be subject to considerable change.' (Bimrose et al., 2011). Until the early 1980's, the developmental concept of career maturation was used widely to denote an individual's vocational progression. Once, however, it was accepted that becoming mature was not necessarily contingent on ageing, the uncritical application of the concept of career maturity to adults was challenged. Career adapt-ability came into use to define the ability to make career choices and adapt to vocational tasks. For adults, this term was regarded as particularly apposite since it focused on the relationship between the individual and the environment and accommodated the notion that adults engage in both career transitions and career change by developing coping responses and behaviours.
2. Career adapt-ability: associated individual characteristics & behaviours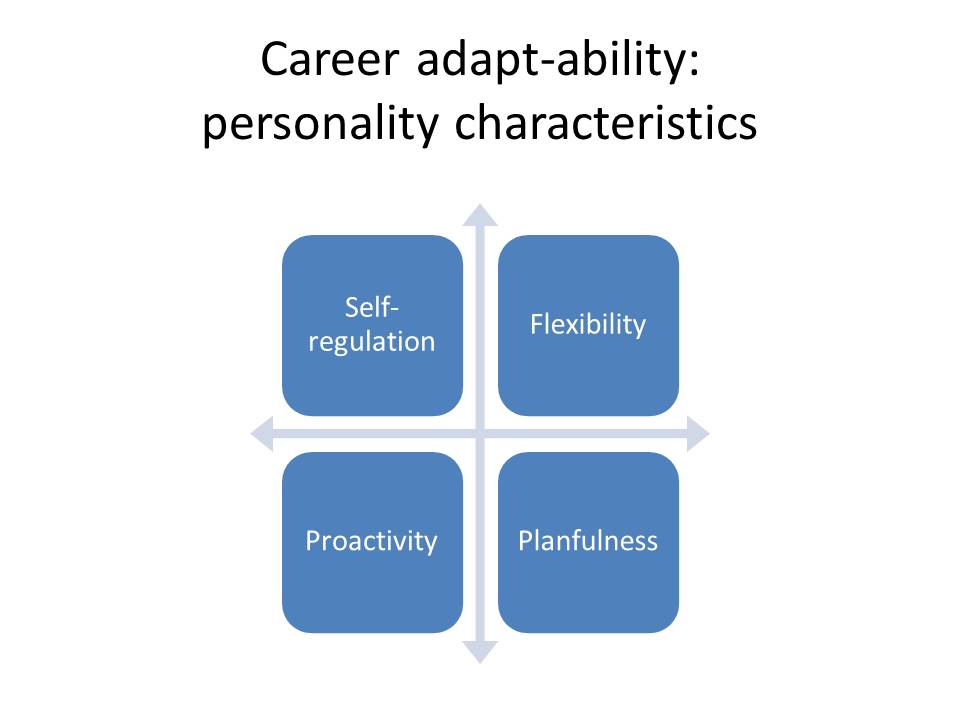 Self-regulation and control figure prominently in the literature and research into career adaptability. Self-regulation is regarded as part of control and in this particular context refers to the strategies that individuals employ to adjust to different occupational settings. Control refers to the strategies that individuals employ to influence different settings. Research indicates how individuals need to feel in control of their lives to adapt their careers and that individuals with a clear sense of control engage more in career exploration activities, take responsibility for their career development and are more decisive in terms of their career.
The concepts of flexibility and openness are also embedded in the literature on career adapt-ability. Flexibility relates to an individual's willingness to transform and develop themselves, in response to demanding circumstances, with openness being part of flexibility, since it relates to receptiveness to change. More particularly, flexibility is defined as fluidity in a dynamic environment. For change to occur, an individual needs to be convinced that they can be flexible in learning new competencies, as well as the skills to develop and adapt, such as keeping abreast of technological developments and changing work processes. This is achieved through a process of reflection, during which 'defensive reasoning' should be reduced, so that individuals can learn from their experiences. Flexible and open behaviour then enables individuals to incorporate new roles and responsibilities into their personal identities as well as learning continuously throughout their career.
Individuals who are proactive anticipate change and react accordingly. Proactivity, that is, being investigative and looking for fresh challenges, is strongly associated with career adaptability. Its importance in career development has been emphasised since it can drive the willingness to seek out new contexts in which to work, together with the readiness to face change and engage in transitions.
The ability to plan for the future, or a planfulness aptitude, is also widely regarded as integral to career adaptability. This refers to being able to plan, map out the future direction and anticipate change. Integral to planfulness is goal setting. This is not limited to an individual's ability to shape their own career goals, but also their ability to set and achieve realistic goals. Those facing job loss and involuntary career transitions need to be able to anticipate and react to changes, as well as understanding how to achieve realistic goals to navigate themselvesout of the situation in which they find themselves.
A major element of career adaptive behaviour is exploration, which is defined broadly interms of career exploration, self-exploration and environmental exploration.
Resilience refers to the capability and capacity to withstand change, implying the development of individual (and institutional) coping strategies. Career resilience refers to the capacity of an individual to respond to both positive and negative events and to moveforward. It is about being able to tolerate uncertainty and ambiguity, whilst at the same time being flexible and autonomous. Some have argued that career resilience is close to the definition of career adaptability. However, resilience seems to imply the ability to survive change once it happens, where as career adapt-ability has a stronger proactive dimension. So developing career adapt-ability is particularly useful where the future seems uncertain or unclear.
How do all of these fit together? In any individual, there will be a complex interaction, depending on the context in which the individual is operating. There are of course other influences to take into account. The diagram below tries to give a sense of dynamic inter-relatedness.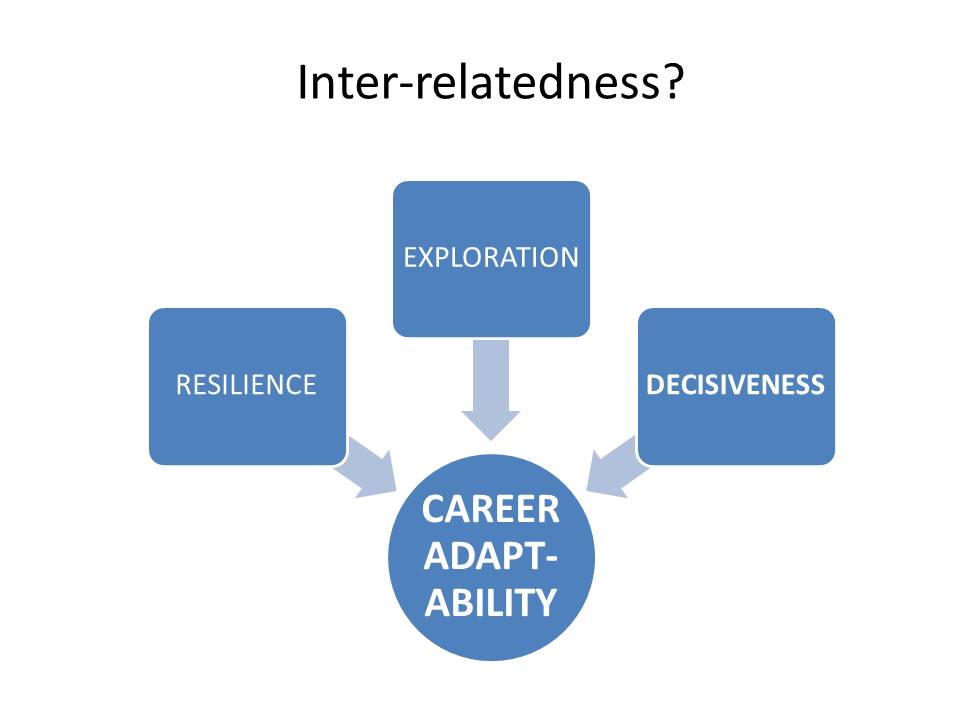 3. Career adapt-ability in practice
More recent work on career adapt-ablity, comprising an ongoing international research investigation, firmly adopts a psycho-social perspective and has produced the most developed conceptualisation of career adapt-ability. It emphasises a contextual dimension by referring to the impact of various changes on the social integration of individuals. The four career adapt-abilities are: concern, control, curiosity and confidence.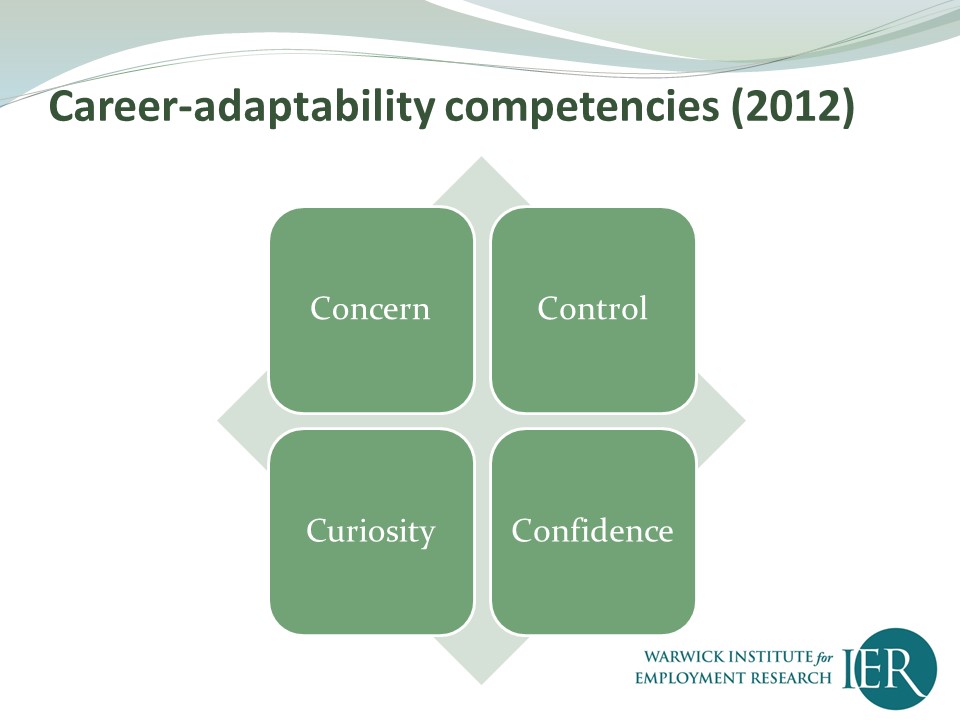 For a brief powerpoint explaining each career adapt-adapt-ability, click on study materials (4 C's – emma mooc) below.
4. Tool for practical use
From this international research, an inventory has been developed that has cross-cultural validity, for use in practice. It can be used to help individuals identify the career adapt-abilities on which they are strong, and weak – and interventions are indicated for addressing any weaknesses.
 It is free and simple to take online – it really won't take long and having your own scores to hand will help you see how the tool works in practice. 
Click here to access an online tool which has been developed in the UK (by CABA) to help individuals in a particular occupational group develop their career adapt-ability.

CAAI-UK-CABA ©
Total the score for each section and attribute an overall score for the section of 'low' 'medium' and 'high' using the table below.
| | | | |
| --- | --- | --- | --- |
| Category | Low | Medium | High |
| Concern | Below 15 | 24-15 | Above 24 |
| Control | Below 18 | 26-18 | Above 26 |
| Curiosity | Below 15 | 24-15 | Above 24 |
| Confidence | Below 17 | 25-17 | Above 25 |
Explanations of these broad scores for each of the 4 career adapt-abilities is given below.
Concern (High)
You are interested in your future; you may already have a Plan A for your future. It is always a good strategy to have a Plan B up your sleeve, as even if you know what you want to do next, things may change in the future. Develop an action plan for your future and keep checking it from time to time to make sure everything is in place.
Control (High)
You are likely to have a positive approach to your future and you may have given thought to what you want from your future working life. But have you talked it over with someone with relevant expertise who can support you, such as a career coach?
Harnessing the knowledge of others around you is also a positive step. For example asking others about the recruitment and selection processes that they experienced.
Curiosity (High)
You may have begun fact-finding about your future plans, now you need to focus on making sure you have covered it all. Dig deeply into information about your chosen occupation or sector of work – what are the upcoming challenges? What might change in the foreseeable future? Which employers offer the best training or pay? Where do the best long-term promotion prospects lie? Will there be opportunities to travel overseas? Important questions – know the answers.
Give yourself time to think about what you have found out. Mull things over before making your decisions.
Confidence (High)
You have a strong score on confidence which suggests you are good at getting things done. Now you should make sure you are doing the right things.
Resilience, tenacity and honesty with yourself are your best allies in making the transition into further training or employment and remember, it's a strength to ask for help sometimes.
Concern (Medium)
You have a balanced approach to thinking about how your working life can develop- aware that it is something you need to focus on but it's not something that worries you a great deal. A good thing to do now is to make sure you know about all the opportunities available to you.
Form a plan of what you want to do after you complete your studies, but try to make sure that you build in some flexibility because the plan may change or your ideas about what is important to you, may change.
Control (Medium)
You are positive about your future and know that responsibility for what happens next is down to you. Now it is important to give some time to thinking about what is really important to you and how you can balance aspects of your life.
Think about what you have learned about yourself so far. What are your strengths, interests and limitations – what kind of feedback have you had from others in your life – what do these difference perspectives suggest to you? It can take a while to work it all out.
Curiosity (Medium)
You have started to find out about options and you may have made some choices, so now is the time to refine your knowledge about what might be available. For example, find out where your dream job is available by using a trusted career information website.
Sometimes it's obvious – to be a deep sea diver you need sea! but sometimes it is not so obvious – accountants work for accountancy companies and also charities, manufacturers, public bodies. So think about the job and its setting and you might be able to combine more than one aspiration together.
Confidence (Medium)
You are confident about the future, but not so certain that everything will work out right the first time; you're wise to think this. Ask yourself, where does my confidence come from? Is it from success in previous experiences? Think about your strengths and whether you want a future that builds on your personal skills and abilities what is sometimes called 'transferable or soft skills'.
Concern (Low)
Are you thinking about your future? Don't be reluctant to talk about your future with those who might listen: friends, colleagues, family. Career coaches are used to talking to people who know what they would like their future to be as well as those of us who don't! They can help you to start to plan for the future and look at how you can achieve your goals.
Control (Low)
What to do now? Decisions, decisions. It's important to be positive and not be put-off by media scare stories about the job market – consider the other side of the story, which is that many employers report offering good jobs they cannot fill.
Take one step at a time; the first step is to find out what support there is available to you. Talk to friends and family about what motivates them at work and use this to think about whether you have similar or different motivations. Find ways to broaden your knowledge of what is 'out there' and what might fit with your ideas and values.
Generally, the more energy we put into things, the more we get out of them – so don't wait for someone to suggest what your future will hold – take the initiative and make one important step each day – you'll be pleased you did.
Curiosity (Low)
Few of us can know about all the potential job opportunities – there are so many, it's almost too daunting to read about them all – so start with broad occupational sectors on a general career information website- from here you can see case studies of what others have done. Interesting, isn't it?
Don't just consider the first job/course that looks good – you have choices and this includes jobs that have not been created yet. For example, 10 years ago, no-one had heard of being a 'web optimisation executive', so keep an open mind, ask questions, and research all of the options available.
Take a risk. Yes, we are serious – do something you have not done before, such as volunteering in the community or climbing Mount Kilimanjaro for charity. Not only does it look good on your CV and give you plenty to talk about with prospective employers, it helps you to see your own strengths in a new light.
Confidence (Low)
You never know what you can do, 'till you try. Volunteering, taking a course or starting a new hobby are all things you can try without any previous experience – and you might surprise yourself about how much you have to offer.
You have skills and abilities already – You can probably think, count, analyse, write, paint (you get where this is going?) so give some thought to how you can hone and extend those abilities.
Focus on what you are good at and interested in – whether it's designing rockets or icing cupcakes – follow your passion, and see where it leads you. 
The following two diagrams show how career adapt-abilities relate to attitudes and beliefs, competence, coping behaviour and career problems.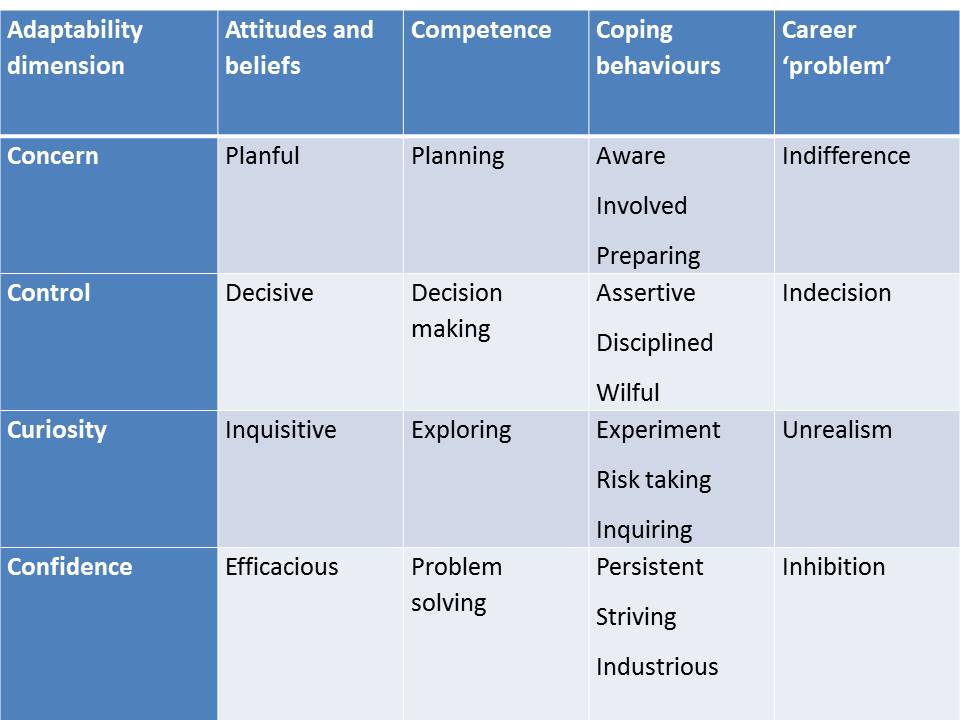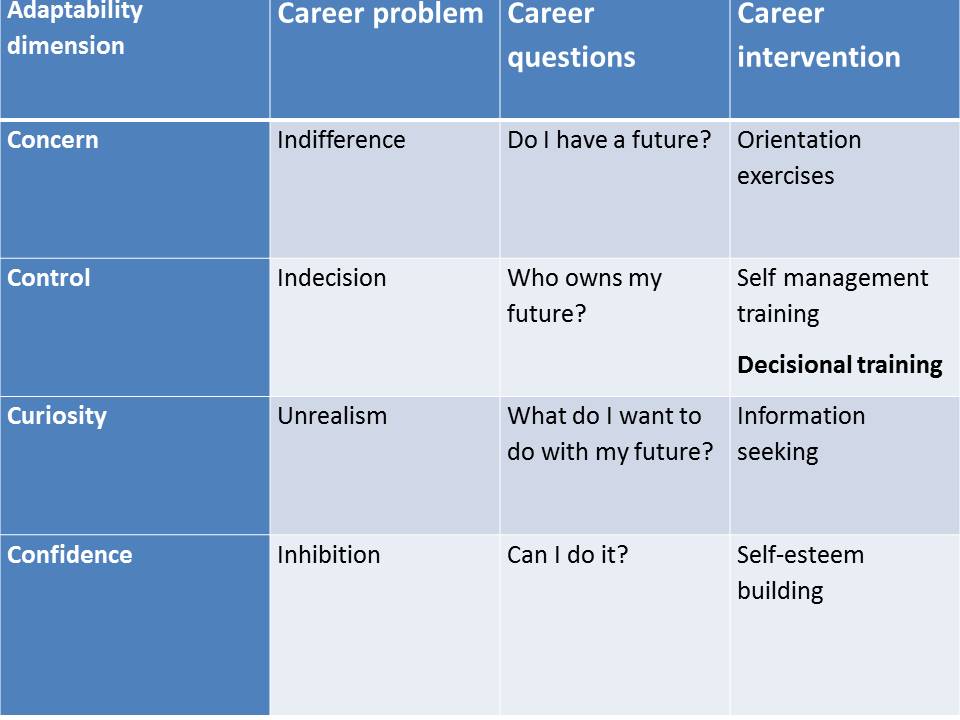 Resources 
Another way of looking at how careers develop over time is through the use of career stories or narratives. Savickas and Hartung have developed a workbook which is designed to enable a person to 'tell, hear and author' their life story. It can be used individually or in groups, it works through 3 phases, the final 'enacting' being a realistic plan for putting a story into action. It can be accessed here: Savickas, M. and Hartung, P. (2012) My Career Story: An Autobiographical Workbook for Life-Career Success.
References:
Bimrose, J., Barnes, S-A., Brown, A. and Hughes, D. (2011). 'The role of career adaptability in skills supply', Wath-upon-Dearne: UK Commission for Employment & Skills.
Bimrose, J. and Hearne, L. (2012). 'Resilience and Career Adaptability: Qualitative Studies of Adult Career counselling' Journal Of Vocational Behavior 81, 338 – 344.
Brizzi, J. S. (1990). Career Adaptability in Adult Vocational Development. Paper presented at the Annual Meeting of the American Association for Counseling and Development, Cincinnati, OH.
Dix, J. E. and Savickas, M. L. (1995). 'Establishing a Career: Developmental Tasks and Coping Responses', Journal of Vocational Behavior, 47(1), 93-107.
McMahon, M., Watson, M. and Bimrose, J. (2012). 'Career Adaptability: A Qualitative Understanding from the Stories of Older Women', Journal of Vocational Behavior, 80, 762 – 768.
Savickas, M. (2008). Report of framework and follow-up studies (Meeting 19 July 2008). Berlin: Life-design International Research Group – Career Adaptability Project, Humboldt Universität.
Savickas, M. L. (1997). 'Career adaptability: An integrative construct for life-span, life-space theory', Career Development Quarterly, 45(3), 247-259.
Super, D. and Knasel, E. (1981). 'Career development in adulthood: Some theoretical problems and a possible solution', British Journal of Guidance and Counselling, 9(2), 194-201.
Savickas, M.L. (1997). Career Adaptability: An Integrative construct for Life-Span, Life-Space Theory, Career Development Quarterly, 45(3), 247-259.
Savickas, M.L., Nota, L., Rossier, J., Dauwalder, J.P., Duarte, M.E.,  Guichard, J., Soresi, S., Van Esbroeck R. & van Vianen, A.E.M., (2009). Life designing: A paradigm for career construction in the 21st Century. Journal of Vocational Behavior, 75(3), 239-250.
Savickas, M.L. & Porfeli, E.J. (2012) Career Adapt-Abilities Scale: Construction, reliability and measurement equivalence across 13 countries, Journal of Vocational Behaviour, 80, 661 -673
External film resources:  
Seven lessons about Career Change: Professor Herminia Ibarra explains all seven lessons in turn, each illustrated by someone talking about their own experience of change.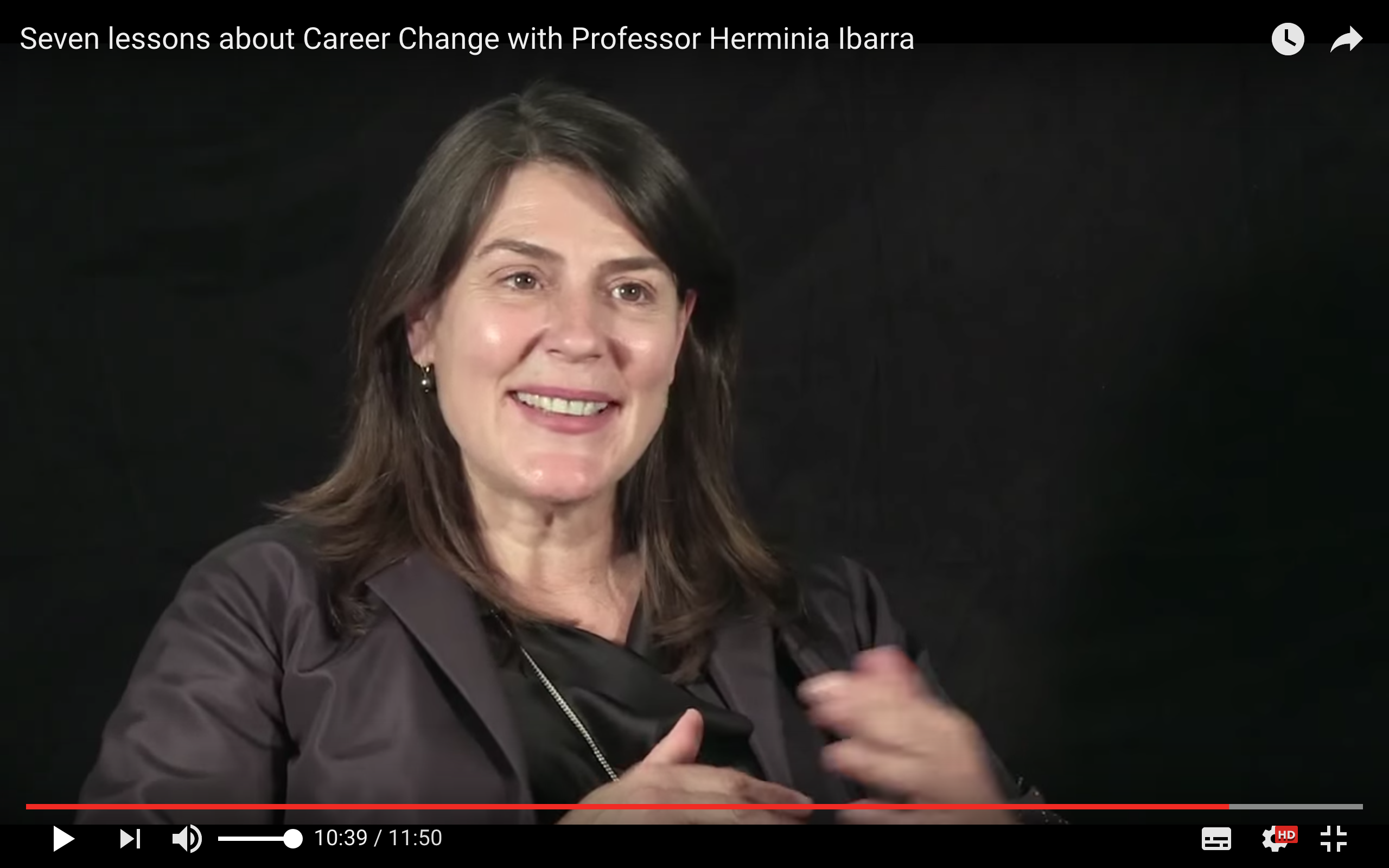 Whilst acknowledging that things don't always go to plan, that desired jobs sometimes just aren't available, this film offers lot of constructive advice which comes out of direct experience of career change – and from Prof Ibarra's analysis.
Life Design: Professor Mark Savickas's keynote video from 2013 International conference (Larios) goes the distance (40 mins) in taking us through the theory of life design, tracing the development of his own thinking and that of other researchers across the globe.  He traces societal changes 'from standardization to individualization' (sic) and argues that Adaptability and Identity are the two meta competences which are needed in the current context.  From minute 24 he focuses on career counselling as a means of supporting clients in telling their story – even when one chapter ends – and explains why keeping the story going is essential.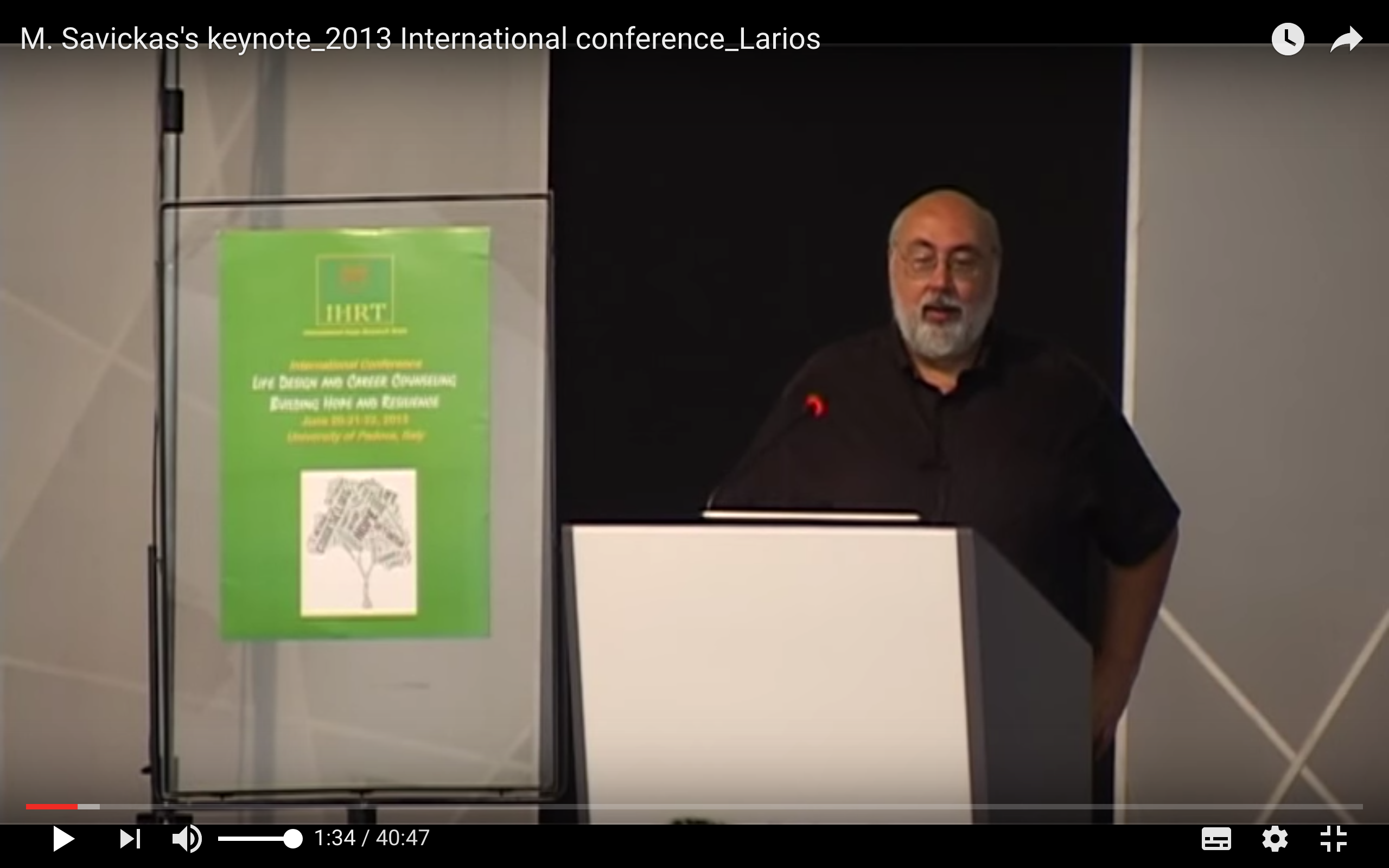 Mind: Personal Identity (The Narrative Self) Elisabeth Camp (Rutgers University)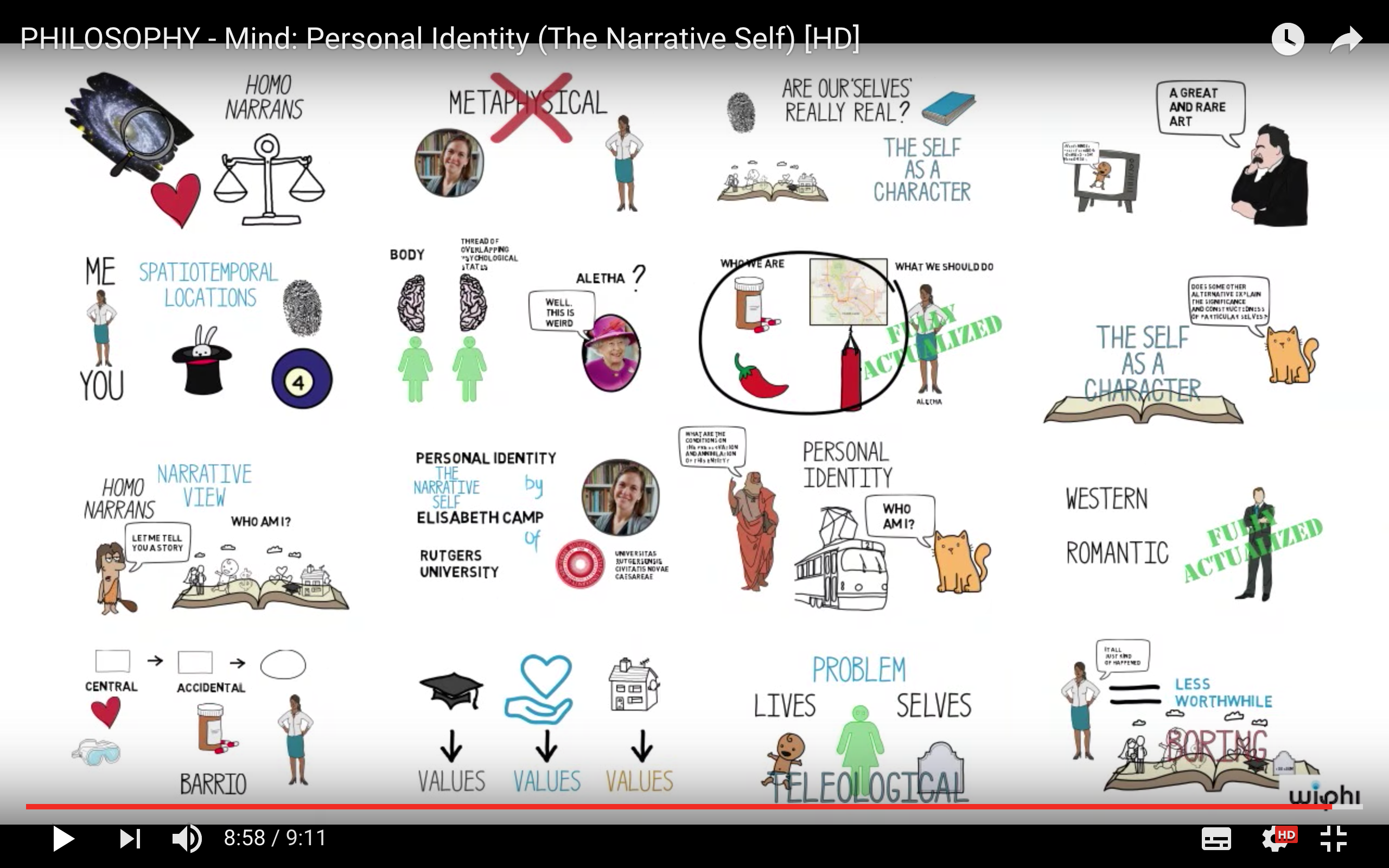 This complicated still (above) maps the entire talk, but it all makes sense as  Elisabeth Camp (Rutgers University) takes us through the narrative view of personal identity, step by step.  Starting from philosophical beginnings to how we live now as constructed selves, telling our stories as an ongoing process of development, she poses the key question: What makes me, me?
---