Modern day jobseekers will find it increasingly difficult to find employment without having a digital presence and using digital skills to search for and apply for jobs online. Similarly, employers need the digital skills for succesful online recruitment. The ability to interact in these online environments is often referred to as digital literacy. Having a presence in an online environment gives you a digital identity. This unit looks at digital literacy, skills, identity and jobsearches.
Digital Literacy
Digital Literacy is a popular topic for educators with many national curricula around Europe being re-written to encompass digital skills but what does it mean for you and for clients searching for jobs?
Jisc defines it as the capabilities which fit someone for living, learning and working in a digital society. (Follow the link and select 'guide to developing digital literacies' for further reading)
The report by ECORYS (2016) encompases digital literacy as a digital skill (you have already seen this document in a previous unit);
Over recent years, the definition of digital skills has broadened out to the concept of digital literacy encompassing multiple types of skill-sets such as basic, operational, cognitive, social and attitudinal. 
The policy paper shows a useful map of digital skills shown below but you can find a bigger version on page 49 of the document. (Click on the image to be redirected to the document then scroll to page 49)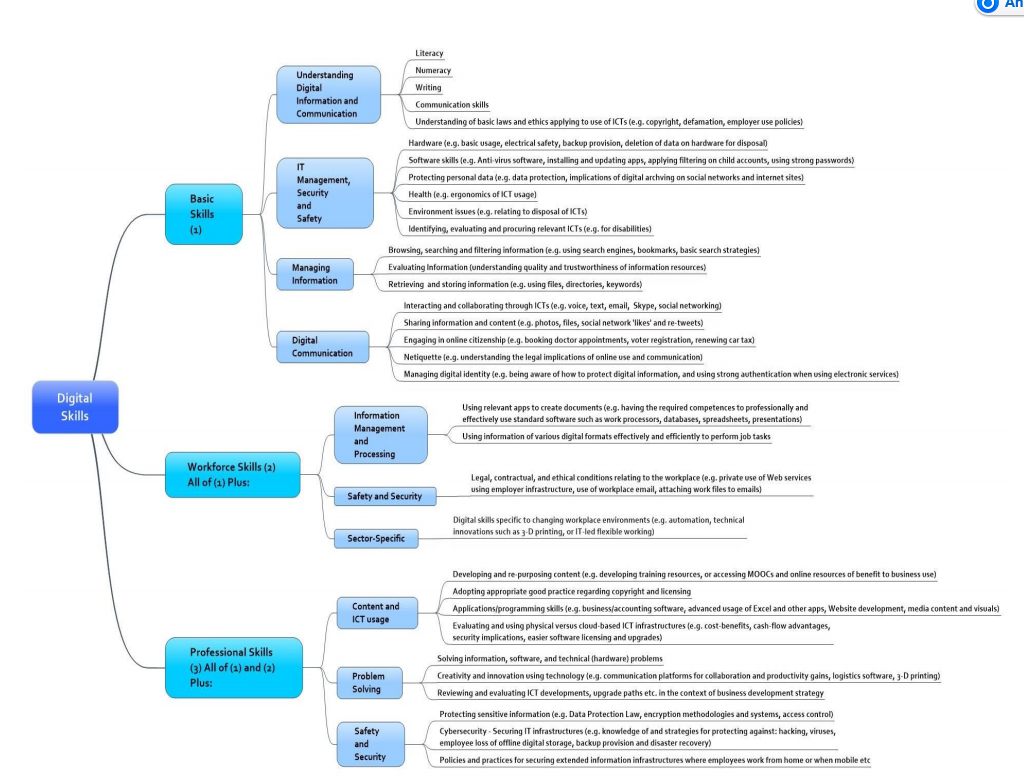 Activity
Thinking back to the last 2 units and the diagram above (also on page 49 of Digital Skills for the UK Economy ) answer the following;
What digital skills do you need to be able to do your job effectively? 
What skills might others need?
How do you learn these skills?
How will others learn them?
Activity – You might like to try this digital literacy skills test with a certificate of achievement at the end.
Digital Identity
Everyone who uses the internet leaves a trail of information about themselves, even if you do not create or share content you are still leaving footprints in the form of search history and cookies. Digital marketers use this information to target you with tailored adverts and even tailored search results.
Search for yourself on-line, what do you find? What do you want people to find when they search for you? You might want the answer to be nothing, but equally you might want to present your professional skills, qualifications and achievements.
In some occupational areas having a multi-platform, online presence can be very important. For example, if you were an employer looking for a computer games developer or a marketing professional or a researcher you would expect the successful candidate to show up on a variety of social media. If they didn't, then you might question their enthusiasm or abilities. In other jobs it is far less important. A jobseeker would need to consider carefully whether a future employer would expect them to be an active social media user, and if so, how to construct an on-line presence that demonstrates they have the skills an employer is looking for before they ever get to the interview stage.
Activity
Consider the following digital items you may have.  Arrange them on a continuum from 'very private' to 'very public'.
Activity
Complete some of these Digital Identity activities from EmployID.
Digital Jobsearch
Jobseekers increasingly need to be tech savvy not just in searching for but also in applying for jobs.  A recent advert for a bar-tender vacancy called for applicants to upload a short introductory video about themselves. It is clear that digital literacy is fast becoming an essential skill in a competitive market.
Activity
Read this handy guide from Dr Judith Done and Professor Rachel Mulvey.
Let's try to bring together your thoughts and ideas
What digital skills do you and others need to be able to do your job effectively?
How do you learn these skills?
How do you present yourself online?
How does online presence impact on a person's ability to find a job?
How does job search and recruitment differ around the world?
You can find more in the book;
Done, J. & Mulvey, R. (2016) Brilliant Graduate Career Handbook. 3rd edition. Harlow: Pearson available from Amazon
---